---
The Winthrop King in Numbers  in Academic year 2016-2017  
Click here to see the details
---
Congratulations to the $6000 Winthrop-King Scholarship Winners: Summer 2017 Awards
This school year the Winthrop-King Institute awarded a total of 14 undergraduate students with the Summer 2017 Undergraduate Study Abroad Scholarship.
Click here for the winners.
Click here to learn more about our undergraduate scholarships.
---
Winthrop-King Upcoming Events for the 2016-2017 School Year
Film Screening: Francofonia by Alexander Sokurov
Film Screening
10 October 2016
Screening of Selfie with Sokurov followed by roundtable discussion
Roundtable with Laurent Dubreuil, Dragan Kujundzic, Sergey Toymentsev, Lisa Ryoko Wakamiya
11 October 2016
The Performance of Pan-Africanism: from Colonial Exhibitions to Black and African Cultural Festivals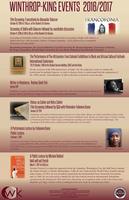 International Conference
20-22 October 2016
Film Screening: Retour au Cahier and Notre Cahier
followed by Q&A with Fabienne Kanor
31 January 2017
Retour au Cahier and Notre Cahier
Public Lecture by Fabienne Kanor
01 February 2017
Haiti Will Not Perish
public lecture by Michael Deibert
07 March 2017
---

Expressions Maghrébines Release
Volume 15, Nº 1, ÉTÉ 2016
A new volume has been added to the Expressions Maghrébines collection. Visit the website for more information.
---
Winthrop-King featured in Spectrum
The WK Institute was mentioned in the Autumn 2013 issue of Spectrum, a magazine published by the College of Arts & Sciences. Many thanks to Barry Ray for capturing our mission. Click here to view article.