Funded by a generous bequest from the late Mrs. Ada Belle Winthrop-King, Florida State University's Institute for Contemporary French and Francophone Studies is a center for interdisciplinary scholarship on France and the wider French-speaking world.
Our interests have a contemporary focus combined with a keen awareness of the historical forces which have shaped the modern world. Through its program of distinguished guest speakers, visiting professors and conferences, together with undergraduate and graduate scholarships, the Institute offers outstanding opportunities in support of teaching and research in French and francophone studies.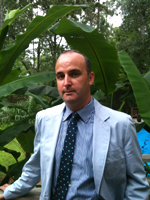 "I am delighted to direct the Institute, and to build on the excellent foundations put in place by my predecessor, Dr Alec G. Hargreaves. I am particularly excited about making new connections with other disciplines, within and beyond F.S.U. As our fields of interest grow and diversify, so the Winthrop-King Institute aims to be at the forefront of new developments, and to continue to play a leading role in promoting French and francophone studies locally, nationally, and internationally."
-Dr. Martin Munro (Director)