Blues Writing: Jean-Claude Charles and Modern Caribbean Literature
---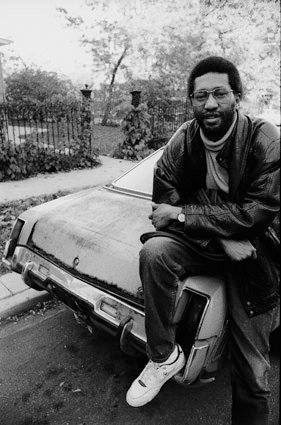 22-24 March 2018
Winthrop-King Institute
Florida State University
(Pour le français, defilez vers le bas)
This event brings together leading international authors, artists, and scholars in a celebration of the work of one of Haiti's most talented and yet least read or understood writers. Through an innovative combination of workshops, performances, and readings we will assess the legacies of this singular figure in Caribbean writing. It is our conviction that the novels, poetry, and essays of Jean-Claude Charles are of primary importance to any understanding of modern Caribbean literature.
Born in 1949 in Port-au-Prince, Haiti, Jean-Claude Charles left his country at the age of 21, first for Mexico, then the United States, Chicago and New York, where began what he termed his "enracinerrance," his life as a "nomade aux pieds poudrés" and a "nègre errant ." He then lived in France, where he studied, and worked as a journalist for publications including Le Monde. A poet, novelist, screenwriter, director, and radio producer, he described himself as an "homme de nulle part," a man from nowhere.
Since 2015, the Winthrop-King Institute has been collaborating with Rodney Saint-Éloi and Mémoire d'encrier in the republication of Jean-Claude Charles' entire oeuvre.
We are not issuing a conventional call for papers, and are looking to build a program of interactive activities between the authors and attendees, including students, scholars, and readers, with the aim of creating new synergies and imagining new forms, actions, and collaborative ways of working. In this regard, we aim to incorporate non-literary forms, such as dance, painting, theatre, music, and digital formats. The major themes and discussion points will be announced in due course, and participants will be invited to prepare short interventions around these themes.
LIST OF SPEAKERS:
Louis-Philippe Dalembert
Edwidge Danticat
Michael Dash
Michaël Ferrier
Dany Laferrière
Yanick Lahens
Alain Mabanckou
Makenzy Orcel
Yolaine Parisot
LIST OF SPEAKERS:
Élvire Duvelle-Charles
Cécile Duvelle
"Jean-Claude Charles is without doubt a true, great novelist." — Marguerite Duras
"Jean-Claude Charles is by far the most brilliant writer of his generation." — Dany Laferrière
"Subtle, talented, but also incurably scarred by displacement, exile, and wandering."— Yanick Lahens
"Sensitive, elegant, and brilliant in his way of being and writing."— Lucienne Serrano
"I was very impressed by his writing. It evokes the great American novelists…quite different to what is being written in France at the moment." — Gilles Perrault
"Jean-Claude Charles is one of Haiti's greatest writers."— Alain Mabanckou
Steering committee: Martin Munro, Rodney Saint-Éloi, Yanick Lahens, Dany Laferrière, Eliana Vagalau, Elvire Duvelle-Charles, Alioune Sow
Administration : Fania Jean
---
Écrire le blues: Jean-Claude Charles et la littérature caribéenne moderne
22-24 mars 2018
Winthrop-King Institute
Florida State University
Cette rencontre rassemblera des auteurs, artistes et chercheurs internationaux de premier plan en hommage à l'œuvre d'un des plus talentueux et toutefois des moins lus ou compris écrivains haïtiens.   À travers un mélange innovant d'ateliers, spectacles et lectures, nous nous proposons d'évaluer les héritages de cette figure singulière des lettres caribéennes.  C'est notre conviction que les romans, poèmes et essais de Jean-Claude Charles sont d'une importance fondamentale à toute compréhension de la littérature caribéenne moderne.
Né en 1949 à Port-au-Prince, en Haïti, Jean-Claude Charles laisse son pays à l'âge de 21 ans pour le Mexique d'abord. Il rejoint ensuite les États-Unis, Chicago et New York où commence ce qu'il appelle son «enracinerrance», sa vie de « nomade aux pieds poudrés » et de « nègre errant ».  Il s'établit ensuite en France, où il fait ses études et travaille en tant que journaliste pour plusieurs quotidiens, notamment Le Monde.  Poète, romancier, scénariste, régisseur et auteur de documentaires pour la télévision, il se définit comme un « homme de nulle part ».
À partir de 2015, le Winthrop-King Institute, avec Rodney Saint-Éloi et les éditions Mémoire d'encrier, entreprennent la réédition de toute l'œuvre de Jean-Claude Charles.
Nous ne diffuserons pas d'appel conventionnel à contributions, car nous cherchons à bâtir un programme d'activités interactives entre les auteurs et les participants, y inclus les étudiants, chercheurs et lecteurs, dans le but de créer de nouvelles synergies et d'imaginer de nouveaux modèles collaboratifs de travail : nouvelles formes et actions.    À cet égard, nous visons à incorporer des formats non-littéraires, tels la dance, la peinture, le théâtre, la musique et le numérique.  Les thèmes principaux et les points de discussion seront annoncés en temps voulu et les participants seront invités à préparer de courtes interventions autour de ces sujets.
Liste des auteurs: 
Louis-Philippe Dalembert
Edwidge Danticat
Michael Dash
Michaël Ferrier
Dany Laferrière
Yanick Lahens
Alain Mabancko
Makenzy Orcel
Yolaine Parisot
INVITÉES SPÉCIALES:
Élvire Duvelle-Charles
Cécile Duvelle
"Jean-Claude Charles est sans doute un romancier, vrai, grand." - Marguerite Duras
"Jean-Claude Charles est de loin l'écrivain le plus brillant de sa génération."- Dany Laferrière
"Subtile, doué, mais aussi irrémédiablement marqué par le déplacement, l'exil et l'errance."- Yanick Lahens
"Sensible, élégant et brillant dans sa manière d'être et d'écrire."- Lucienne Serrano
"J'ai été très impressionné par son écriture.  Elle évoque les grands romanciers américains… bien différent de ce qui s'écrit en France à l'heure actuelle."- Gilles Perrault
"Jean-Claude Charles est l'un des plus grands écrivains haïtiens."- Alain Mabanckou
Comité de pilotage: Martin Munro, Rodney Saint-Éloi, Yanick Lahens, Dany Laferrière, Eliana Vagalau, Elvire Duvelle-Charles, Alioune Sow
Administration : Fania Jean