Winthrop-King Institute for Contemporary French and Francophone Studies
Student Spotlight: Peter Osne.
Click here for more information.
"This is to thank the Winthrop-King Institute for financially supporting my academic research at the Haitian National Library during this summer 2018 in Port-au-Prince. This has allowed me to make great progress in the writing of my dissertation titled "Les quartiers immondes d'Haïti: L'image du bidonville haïtien dans l'œuvre Romanesque de Lyonel Trouillot". No words can describe my gratitude to this generous and rare institution that has given so much to me since I started in 2015 (sous les yeux vivants de Jacques Roumain) my doctorate studies in francophone literature at Florida State University. Thank you so very much, Winthrop-King Institute!"
---
Mark your calendars for the Winthrop-King Institute's events for the 2018-19 academic year.  Click here for more information.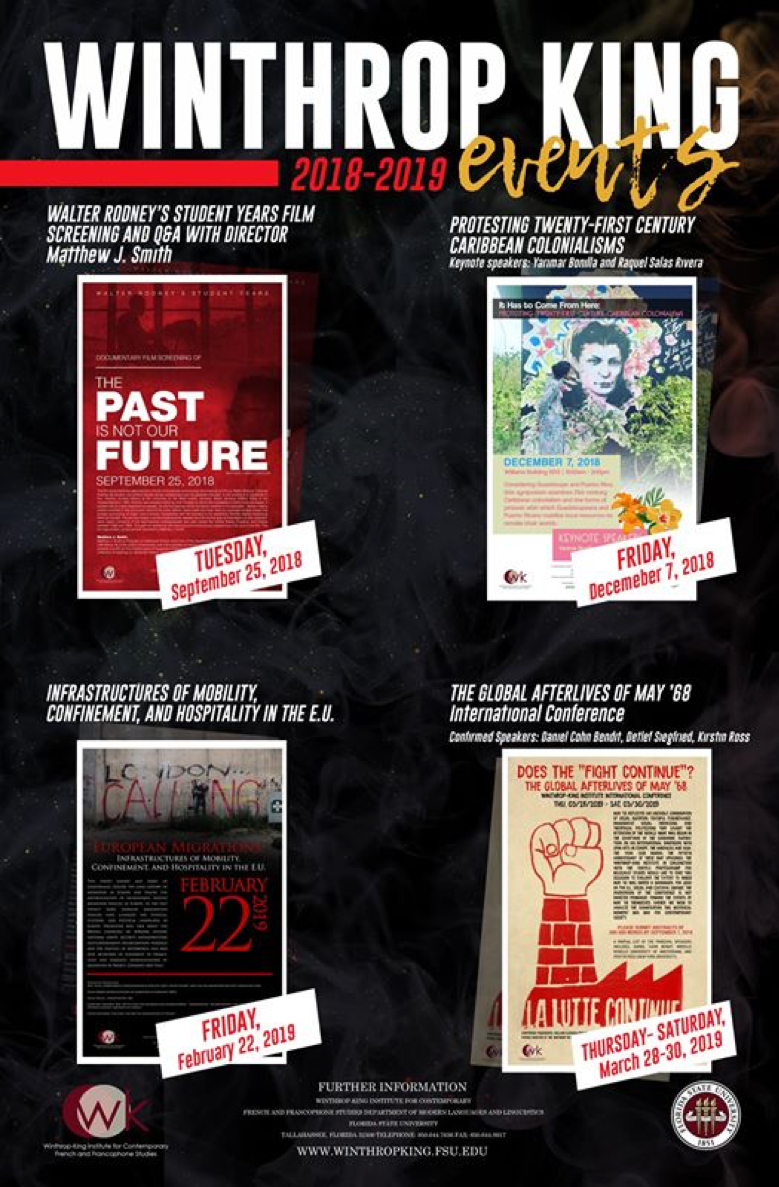 ---
The Undergraduate Scholarship Applications are now Open 
The application deadline is October 9th, 2017.
Click here for more information
---
The Winthrop King in Numbers  in Academic year 2016-2017  

Click here to see the details
---
Congratulations to the $6000 Winthrop-King Scholarship Winners: Summer 2017 Awards
This school year the Winthrop-King Institute awarded a total of 14 undergraduate students with the Summer 2017 Undergraduate Study Abroad Scholarship.
Click here for the winners.
Click here to learn more about our undergraduate scholarships.
---
Winthrop-King Upcoming Events for the 2017-2018 School Year
Askew Student Life Cinema
9 October 2017 5:00pm
INTERNATIONAL CONFERENCE
Speakers include SALIM BACHI, ANTOINE BELLO, FELICIA MCCARREN, JEAN-MARC MOURA, ABDOURAHMAN WABERI
24-25 OCTOBER 2017
INTERNATIONAL CONFERENCE
speakers include ELIZABETH MCALISTER AND BETSEY BIGGS
8-10 FEBRUARY 2018
International Conference
22-24 March 2018
---
title-inside title-centered
2